IMPS: Artwork Raffle - "Min Pin Pups: The Secret"

Donated by the artist to benefit IMPS, we are raffling this item individually to ensure that an enthusiastic collector will win it!:

"Min Pin Pups: The Secret"

Original pastel on velour board by Tina M. Morgan - www.portraitartbytina.com
Sized at 18.5" x 18", the pups are depicted "larger than life"
Shipped ready-to-frame to the winner
Inspired by a photo by Mendee Hackbarth, who has successfully fostered several min pin moms and their pups in her role as an IMPS volunteer.
Winner, 1st place People's Choice Award, Helping Paws IV art exhibit, Canine Art Guild
Value at current pricing: $600
(Note: the watermark does not appear on the artwork itself)

Raffle Instructions

Tickets are available for $3.00 each or 8 for $20.00. All proceeds will be donated to IMPS.
Send your check (made out to IMPS), along with a self-addressed, stamped envelope to:

IMPS Artwork Raffle
82 Malaga Terrace
Malaga, NJ 08328

PLEASE INCLUDE YOUR PHONE NUMBER ON YOUR CHECK SO WE CAN CALL YOU IF YOU WIN!

Email impsquiltraffle@gmail.com for any ticketing inquiries.

We will use double-sided raffle tickets. One half will be mailed back to you and the other thrown in the raffle bowl. We will keep a log of all names/ticket numbers.
The raffle will start on Friday 6 July 2012 and close on Friday 7 September 2012. All entries must be postmarked by Friday 7 September 2012.
The raffle drawing will take place on the weekend of Sunday 15 September 2012 - it will be a lucky day for one! The winner will be notified by phone, and the winner's name will be posted on the saluki list and on the various IMPS Admin and Regional lists.

Unfortunately, we do not accept payment via PayPal for this raffle.

Best of luck to one and all! Please feel free to cross-post and share with all your friends and family!
---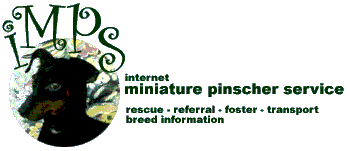 IMPS Home Page - the Internet Miniature Pinscher Service.
---
If you have any queries, feel free to email me at imps@mgbeng.com
---