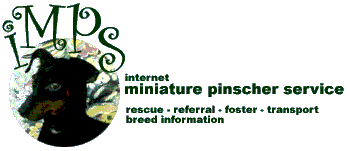 The Barry Jeter Donation Fund

When Barry first adopted Tiny, he would shake constantly, after a bit of time Tiny became Barry's sidekick. They went everywhere together. Barry would work in the back of his store Tiny was in the front on a chair burrowed under a blanket. There were very few times Barry was spotted without Tiny. A couple of winters ago Barry bought Tiny a brown leather bomber jacket. The jacket made Tiny look very tough or as tough as a 10lb Miniature Pinscher could look.
Barry is missed by his family, friends and the community but no one will miss him as much as Tiny.

To make a donation to IMPS in Barry's name, please send a check to:
IMPS, Inc.
P.O. Box 176
Pinellas Park, FL 33780
Please make checks payable to IMPS, and please mention the "Barry Jeter Donation Fund".
Internet Miniature Pinscher Service, Inc. (IMPS) is a not for profit corporation as recognized by the State of Florida Department of State, and is registered with the Florida Department of Agriculture and Consumer Services (registration number: CH9935).
IMPS, Inc. does not retain professional solicitors; therefore, one hundred percent of all contributions come directly to IMPS.
A COPY OF THE OFFICIAL REGISTRATION AND FINANCIAL INFORMATION MAY BE OBTAINED FROM THE DIVISION OF CONSUMER SERVICES BY CALLING TOLL-FREE WITHIN THE STATE, 800-435-7352. REGISTRATION DOES NOT IMPLY ENDORSEMENT, APPROVAL, OR RECOMMENDATION BY THE STATE.
Internet Miniature Pinscher Service, Inc. (IMPS) is exempt under section 501(a) of the Internal Revenue Code as an organization described in section 501(c)(3). However, it is suggested that you consult your tax professional for a determination as to whether any contributions may be tax deductible.
IMPS thanks you for your kind support.