Our First Prize is a majestic, absolutely amazing quilt is lovingly handmade from men's ties and donated by Diane Gehoski. It nearly covers the top of a California king bed at 90" x 90". The batting is dense, the fill is layered and the quilt is heavy, weighing (around 15 lbs?). The border is bound in black leather, and the color and detail are incredible! We can't capture the whole thing in one picture but we've done our best. Details include the occasional bowtie flower, the random pop of color, the flow of color (not one tie clashes with the ones around it!) And perfect leather corners with double-stitched border. This quilt is a handsome gem and definitely one-of-a-kind!

Click HERE to see more pictures of this unique quilt.
---
2nd PRIZE
2nd Prize is a special Min Pin T-Shirt quilt made by Paula Fullager. This MinPin T-shirt quilt measures approximately 64" X 64" and perfect to use as a throw. T-Shirts were sent in from minpin and dog lovers afar, and were put together to form this lovely quilt. Each block is framed, and the quilt itself bordered in a black/multi-colored fabric. The sashing is a medley of black and white bones. The backing is a nice, soft, warm, black & white paw print fabric. The top-stitching is a paw print pattern throughout. The quilt was made in a smoke-free, minpin filled home. You'll treasure this quilt for years to come and your dogs are sure to dive right under for a long winters night.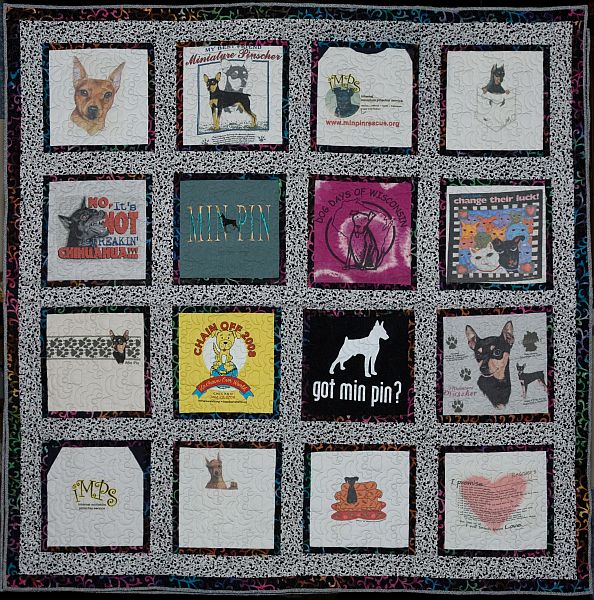 Quilt photos courtesy of D & S Johnson - www.dsjohnsonphoto.com
Click on a Quilt above to see the Squares in detail.
---
3rd PRIZE
3rd Prize is a basket full of toys, $120 value, donated by Linda DeVoll. Your dog(s) will have many hours of fun with this.. "Dogs Tails Never Lies".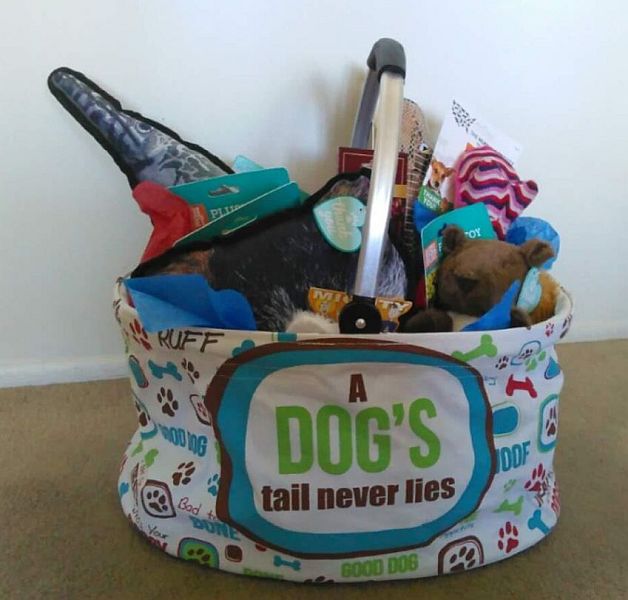 Click on a picture above to see more details.
---